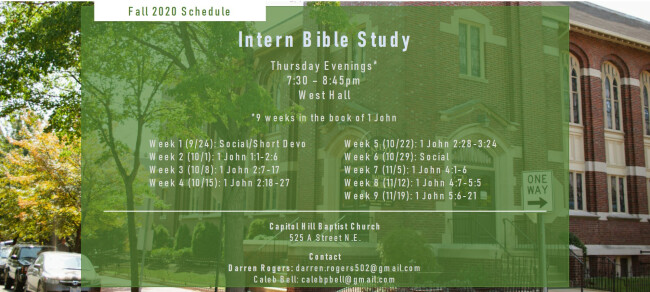 Washington, DC attracts thousands of college students and interns every year. The college years are ripe for spiritual growth and we welcome all who wish to join us at our church. Our primary ministry to students is twofold: the public teaching of God's Word in which the good news of Jesus Christ is proclaimed, and the relationships in our community of believers that gather to be built up by that Word.
The following are ways that students and interns can get involved in engaging with God's Word and in building relationships with other followers of Jesus at CHBC:
College/Intern Lunch:

Due to the current pandemic and current limitations on meeting indoors, there will not be any

college

and intern lunches this fall.

Intern Bible Study: Meets on Thursday nights at 7:30pm during the fall, spring, and summer semesters. All interns & students are welcome. Please e-mail Darren Rogers for more information.
One-on-One Discipling: We encourage students and interns to meet regularly with a member of the church to study the Bible and grow in understanding the good news of Jesus. If you'd like to find someone to meet with you, simply contact the appropriate name below.
Campus Outreach: A campus ministry of CHBC, Campus Outreach

equips and mobilizes students for discipling and evangelism on campus at Georgetown University, Howard University, and The George Washington University.
For more information about our college and intern ministry:
Students at Howard, Georgetown, and George Washington:

Please e-mail

Paul Billings

, Executive Director of Campus Outreach

Other students and interns:

Please e-mail

Darren Rogers or Amy Rogers

, Deacons of College Ministry